Hi,
My name is Jennifer Langstroem and I'm the author of woowalkers.com. I live with family live in sunny L.A. where we also go on most of our walking adventures.
My story
I'm very happy to welcome you on my website about walking for exercise and the gear you should have.
When you're an avid walker like me, you will agree that the right shoe is the most important equipment we need.
Without proper footwear we can end up with blisters, pain and in severe cases injuries and foot disorders (plantar fasciitis, cavus foot, etc.).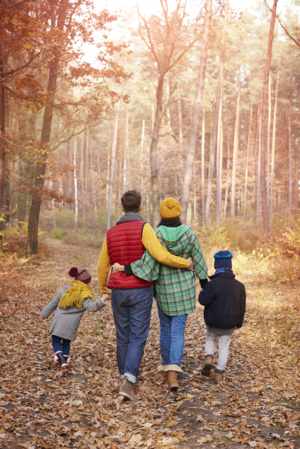 I was one of those people. I didn't care about my footwear for a long long time. When my shoes gave up I just went to the next shoe counter and grabbed a random pair.
My only requirements were: Does it fit properly and look good?
After a few years of this, I ended up with chronic foot pain and had to stop walking for a few months.
Most doctors just told me: Don't do any sports for a while and it will get better.
But it never did, the pain always came back.
I was reading an article on a sports magazine where the author wrote about different levels of foot pronation, arch heights and the necessity to have the proper shoes for your individual foot type. It finally came to me: I have to find the right shoes for MY feet.
I analyzed my gait and foot arch and soon I got myself a new pair of motion control shoes (I'm an overpronator and have flat feet) and the pain went away almost instantly!
Foot pain is gone now 🙂
Woowalkers
I decided to put up my own website – woowalkers.com, where I give tips about walking footwear and walking for exercise in general. If you have any questions, you can contact me on the contact page or hit me up on my Facebook or Twitter page.
Since starting the website we have grown a bit and it takes some upkeep.  I was talking this over with a friend of mine up in Ithaca the other month and the conversation ended with him joining with me – so I would be really happy if you would welcome my long time buddy Curtis Fullbright who you will see posting mostly men's stuff. I'll let him introduce himself below.
Yours,
Jennifer Langstroem
---
Hi
My name is Cutis and I am very happy to be joining Jennifer with WooWalkers.
I've known Jennifer rather more years than we'd both like to admit but don't see each other quite so often these days as we are both busy with family.
I live up in Ithaca where it is rather colder than Jenny's Florida hideaway. I do love the scenery up here though and my family and I are also walking lovers.
My regular walks are ordinarily calmer than the fitness walking I used to do; necessarily so because my kids won't and can't keep up. So it's more regular walks on varying routes with occasional short hikes through the beautiful countryside and hills up here.
Anyway, I'll share with you guys everything I can in the hope I can help make your walking more enjoyable and point out anything I find out about the products we review here.
I look forward to helping out.
Best,
Curtis Fullbright